Columbia County Among Top 10 Most "Financially Healthy Counties"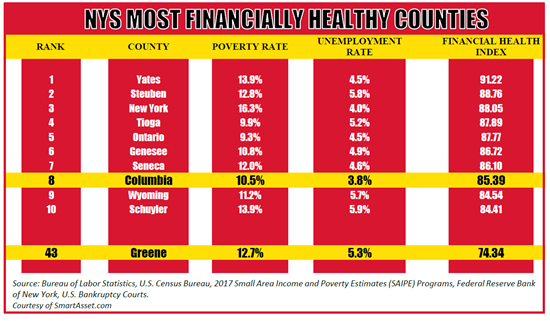 It is because of Columbia County's strong conservative management and Republican leadership on the Board of Supervisors that we stand prominently in this list of the 10 most financially healthy counties in New York State. Chairman of the Board of Supervisors and Budget Officer Matt Murell and County Treasurer PJ Keeler, among others, have built a financial management team that has reformed and improved the way Columbia County does business.

Make no mistake, all New York counties - even the most financially healthy - face challenges. Much of that is because of the unfunded mandates that the State keeps passing on to local governments. They are choking our budgets and burdening local taxpayers. They are stifling economic development and dampening job growth. But Columbia County has a solid team of fiscally conservative leaders who work tirelessly to keep expenses down, budgets tight, investments safe and local taxes low.

Being number 8 on this list is terrific, but lets keep building on our progress in 2020 and reach for that number 1 spot! We do this by electing Republicans on Tuesday, November 5th.